Exhibition
We can also offer limited space for your exhibition stand. The exhibition area is in front of the entrance to the symposium area (Karajan Hall).
You can set up your exhibition spaces on the 17th of May from 1pm to 5pm, and on the 18th of May from 7.30am. The time reserved for taking down the exhibition booths starts on the 19th of May at 4pm, after the event has finished.
Exhibition floor space cost*: EUR 395,- / m² (minimum 6m²).
If you are interested in presenting your company on an exhibtion stand please send us an e-mail to:
info@torsional-vibration-symposium.com
Registration form for exhibitors (PDF)
Regulations-for-delivering-and-collecting-goods_Salzburg-Congress (PDF)
Booth equipment rental:
Please note that the deadline for addition booth equipment orders is May 9, 2017.
TVS 2017_Exhibitors_booth equipment_RENTAL (PDF)
For any additional orders concerning your exhibition booth, please contact:
System Standbau GmbH
Mr. Roland Schwank
Am Messezentrum 7
5020 Salzburg
T +43/662/930405221
roland.schwank@systemstandbau.at
Safety Regulations:
Security-instructions-of-the-public-auhoritie Salzburg-Congress (PDF)
General-terms-and-conditions-of-business_Salzburg-Congress (PDF)
* Please note that the price includes the participation fee for one person only. All exhibitors have to be registered. The rate also includes white walls, one white counter, two spotlights, one table and three chairs. Please note that the Vibration Association will not be held liable for any damages to or loss of exhibition materials or the exhibition stand. The Official Safety Regulations of Salzburg Congress apply.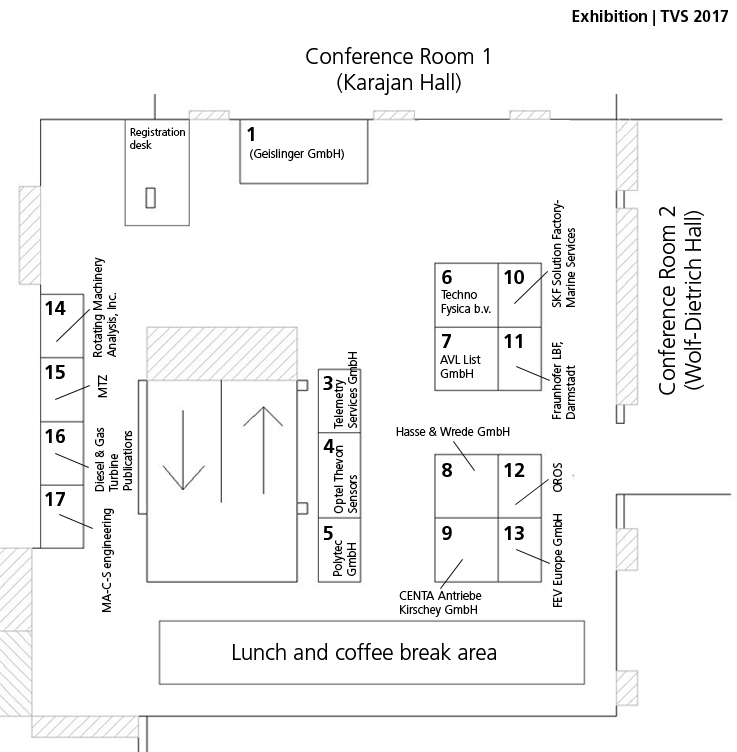 List of exhibitors at the TVS 2017:
AVL List GmbH
CENTA Antriebe Kirschey GmbH
Diesel & Gas Turbine Publications
FEV Europe GmbH
Fraunhofer LBF, Darmstadt
Geislinger GmbH
Hasse & Wrede GmbH
MA-C-S engineering UG & Co. KG
MTZ Industrial
Optel Thevon Sensors
OROS
Polytec GmbH
Rotating Machinery Analysis, Inc.
SKF Solution Factory Marine Services
Techno Elektronik GmbH