Save the date!
Torsional Vibration Symposium 2020
Salzburg Congress / Austria
May 13-15, 2020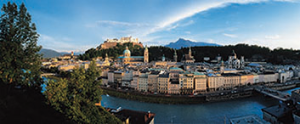 structured sessions
Marine Propulsion –
Responding to the latest Challenges
Marine Propulsion –
Design and Development
Marine Propulsion –
Navigating in Ice Conditions
System Parameter Identification
Simulation based System Design
Noise and Vibration
Simulation
Powertrain Components – Elastic Couplings
Compressors Applications
Engine Development –
Managing Vibrations at the Source
Engine Development –
Future Concepts
Measurement and Monitoring
Rules and Regulations
System Reliability –
Case Studies
System Evaluation
News
Save the date!
June 6, 2017
Torsional Vibration Symposium May 13-15, 2020
Registration deadline
May 4, 2017
Please note that the registration is officially closed

Offical Program Brochure
May 4, 2017
The official program for the Torsional Vibration Symposium 2017 is online now: TVS 2017 Program. Take a look at the brochure and decide which sessions you would like to attend.
Early bird rate
January 18, 2017
The early bird rate has been extended until February 17th, 2017. Register here
Abstract submission closed
November 8, 2016
The abstract submission is now closed. We would like to thank all authors who have participated and submitted an abstract. The program of the symposium will be finalized by mid-December.
Registration open
October 17, 2016
The Registration for the Symposium 2017 is now open: Registration
Sponsorship
May 28, 2015
Various sponsorship packages are now available. If you are interested in sponsoring this event please send us an e-mail to: info@torsional-vibration-symposium.com and we will gladly send you information regarding interesting sponsorship packages.
Exhibition
May 28, 2015
We are pleased to be able to offer exhibition space at the congress centre and invite you to exhibit. The Torsional Vibration Symposium is the foremost technical event in the field of torsional vibration. Exhibition space is available from €395,- per m², a minimum of 6m² floor space is required. Please send us an email to discuss exhibition options for your company.
Email:  info@torsional-vibration-symposium.com